All deSignet Custom Family Crest Jewelry is Hand Crafted to Your Specifications.
We will gladly create your Family Crest in any metal or combination of metals.
Sterling Silver, 14KT Yellow, Green, Rose or White Gold, 18Kt Yellow or Platinum.

One Time Custom Graphic fee applies ($150 - $250). Custom items are non-returnable.
Email or call us at 888-RARU-COM (888-727-8266) for a free quote.
---
Family Crest Rings
BACK to Custom Signet Rings
---
Custom Family Crest Cuff Links
Email or call us at 888-RARU-COM (888-727-8266)for a free quote.
Generally, cuff links are 18-20mm in size and studs are 11-13mm.
One Time Custom Graphic fee of $150 - $250 is in addition to the pricing below.
Prices subject to change without notice.
(Custom items are non-returnable.)
Custom Cuff Links
$119.95 - Sterling (S/S)
$124.95 - S/S Black Antiqued
$139.95 - S/S, 18KT Gold Plated
$1000 - $1400 14KT, w/14KT Findings (cost based on finished weight)
Custom Studs
$35.00 Each - Sterling (S/S)
$37.95 Each - S/S Black Antiqued
$45.95 Each - S/S, 18 KT Gold Plated
$225 - $350 Each - 14KT, w/14KT Findings (cost based on finished weight)
---
Other Custom Family Crest Products
We can create money clips, key tags, golf ball markers,
pendants, earrings, bracelets and rings from your Family Crest!
Contact us at 1-888-727-8266 or Email Us
(Custom items are non-returnable.)


---
Custom Family Crest Wedding Bands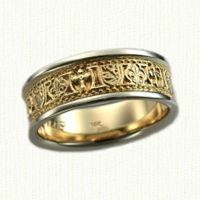 Custom Crest, Fleur-de-lis & Cross Band
Shown: 18kt Yellow Center with 14kt White Rails
Email or call us at 888-RARU-COM (888-727-8266)
for a free quote Visit our Custom Wedding Bands Site for other ideas.
(Custom items are non-returnable.)


---
Family Crest Pendants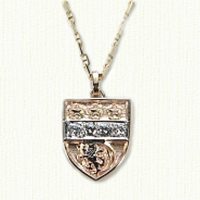 Custom Family Crest Pendant
with 4 Diamonds& Lion and Stars Motif
Custom photo etched family crest pendant in 14kt yellow gold with four
.06ct round brilliant cut diamonds set in a strip of white gold.
(Custom items are non-returnable.)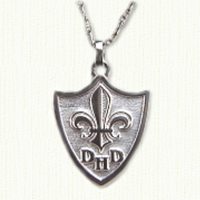 Custom Family Crest Pendant
with Initials 'D H D'

Custom photo etched family crest pendant in
Shown: 14kt white gold with three initials and Fleur-de-Lis.
(Custom items are non-returnable.)