All Our Rings Are Made By Hand And Manufactured In Our Own Shop, Right Here In The USA!



Email or call us at 888-RARU-COM (888-727-8266)for a free quote
This is an assortment of our antique style & custom signet rings
We have many styles with plain shanks and we can always create a unique one - that's our specialty - "One of a Kind deSigns".

Most styles are available in sterling, 14kt and 18Kt yellow and platinum, all sold by weight.

Machine engraving included while hand engraving is available as per quote.

Please call 1-888-727-8266 to discuss your ideas and we will gladly attach a free full size scan or sketch of any style with price quote.

Visit our Custom Monogram Jewelry page for more ideas.



Hand Engraved Signet Rings
** Hand Engraving on sterling, 14kt yellow, 18kt yellow and platinum starts at $75.00 **
** Hand engraving on 14kt white gold starts at $100.00 **


Examples of Machine Engraving Fonts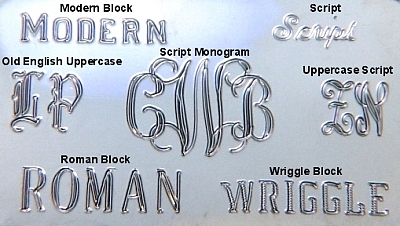 These fonts are available on signet rings, pendants, money clips and bracelets.
Other Fonts and symbols we offer - click here

All custom signet/crest rings require a one time, non-refundable custom graphic & mold charge of $150 - $200.00 US.
In general our 14kt yellow gold signet and crest rings weigh 12 to 18 dwt each for a cost of $1800 - $2700.00 US + the custom graphic & mold fee. Please call or email for more information.